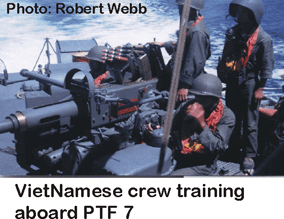 Within a week President Lyndon B. Johnson presented the Incident to the American People as an unprovoked attack of U.S. Naval Ships on the High Seas. The Congress of the United States passed the Tonkin Gulf Resolution, authorizing President Johnson to escalate, what had been a civil war in Southeast Asia into the Vietnam War of 1964-1975.
PTF 3 was turned back over to the U.S. Navy in 1965. Based out of Danang, RVN, PTF 3 continued operations against North Vietnam inserting SEAL, Special Forces, Force RECON Marines and South Vietnamese Sea Commando units. PTF 3 participated in the Psychological Warfare program called the League of he Sacred Sword. A fictitious resistance movement that kept several North Vietnamese Army Divisions busy and out of the war hunting phantom guerrillas.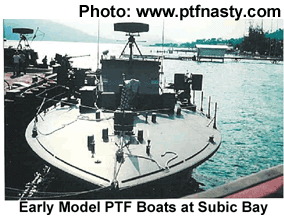 PTF 3 returned to the U.S. in the early 1970's and was stationed at the Navy Diver Training Facility at Key West, FL. Decommissioned in 1977, and sold for scrap in 1978, donated to Boy Scout Troup 544 in 2001.
SPECIFICATIONS:
BUILT: Masden, Norway 1962 as KNM SKREI Torpedo
COMMISSIONED: U.S. Navy PTF 3 1963
LENGTH: 80 feet, 4 inches
BEAM: 24 feet, 5 inches
DRAFT: 6 feet, 10 inches
SPEED: 43+ knots
CONSTRUCTION: Double planked Honduran Mahogany
ARMAMENT: 40 mm BOFORS (1)
.50 M2 / 81mm (1)
20 mm Mark 3 (2)
7.62 mm M60 MG (4)
5.56 mm M16 rifles