The PTF 3 Restoration Project is made possible by the generous donations of our Sponsors, sales of merchandise and various grant programs. There are also numerous volunteers helping on the project, including some who actually served on PTF 3! If you would like to help turn our dream of a Living History Museum into a reality, we invite you to participate in one of our sponsor programs. Every dollar is important to us, from Seaman to Plank Owner.
As our way of saying "Thank You" each sponsor will receive an assortment of commemorative gift items and/or passes, as indicated in the chart below. To purchase your sponsorship please email us at ptf3restore@embarqmail.com.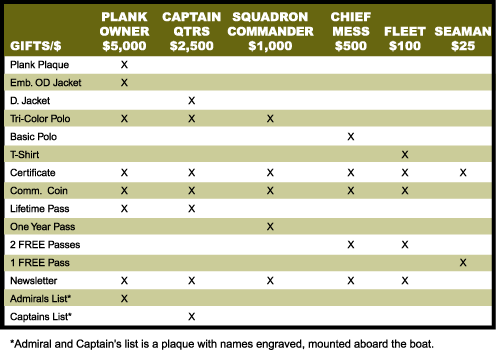 Sea Scouts restore the boat that started the Vietnam War . . .


Admiral LeRoy Collins, Executive Director of the Florida Department of Veterans' Affairs visits PTF 3
July 2007